Eligibility Area Map
Created in support of the ReConnect Program, the eligibility area map is designed to assist potential applicants in determining service area eligibility across the United States.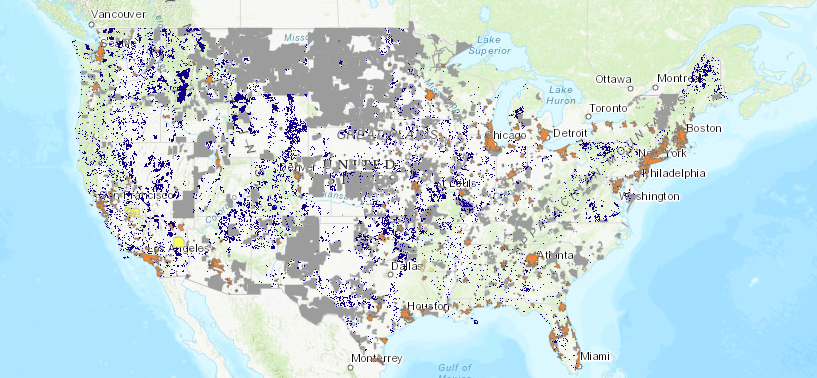 *Please note, this version of the Eligibility Area map is still using the evaluation criteria for round one of the ReConnect program. The map will be updated soon with the evaluation criteria for round two. Please continue to check back on the website for the most up to date mapping tool.
Eligibility Area Map Datasets
The datasets that make up the Eligibility Area Map include the following categories: essential community facilities, educational facilities, healthcare facilities and tribal lands. To learn more and download the datasets for each category, please visit the Eligible Area Map Datasets page.
Evaluation Criteria
The mapping tool also includes evaluation criteria that will be used to auto-generate project scores under the Evaluation Criteria section for 50% loan / 50% grant and 100% grant application requests. Additional information on how applicants' proposed funded service areas will receive a score generated by the map can be found in Evaluation Criteria.
Eligibility Criteria
For information about the service area eligibility criteria datasets, including CAF ll – Auction 903 Winners, non-rural areas, pending applications and protected broadband borrower service areas, please visit the Eligible Service Area page.