Feb 21, 2017
March is National Nutrition Month. Throughout the month, USDA will be highlighting results of our efforts to improve access to safe, healthy food for all Americans and supporting the health of our next generation.
Recently, the Let's Move! campaign issued its annual call for kids to enter original recipes into the Healthy Lunchtime Challenge.  One winner from each state will be selected to attend the 2016 Kids "State Dinner" at the White House, where a selection of the winning recipes will be served. This year, the Healthy Lunchtime Challenge is putting a spotlight on homegrown pride and encouraging entries from across the country that include ingredients grown in your state, territory, or community, celebrating MyPlate, MyState.
From farm to fork, agriculture and nutrition are integrally linked. And every state in the U.S. can play an important role in helping Americans eat healthfully. Thanks to USDA's National Agricultural Statistics Service, the maps below show where foods from every MyPlate food group are grown. If you have a child between ages 8 to 12, consider having them enter a recipe into the Healthy Lunchtime Challenge. The deadline for entries is April 4. And stay tuned for more on MyPlate, MyState from CNPP – we'll have more activities for everyone next month!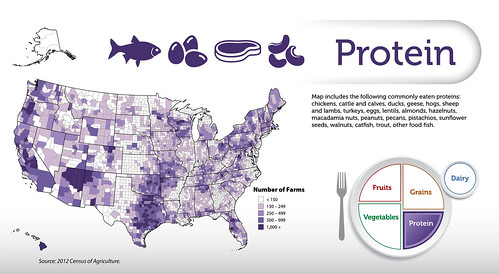 For more information about the Census of Agriculture and these maps, check out this blog from the National Agricultural Statistics Service: #AgCensus and MyPlate Serve up Lessons in Math, Nutrition, and More.
Write a Response
Comments
Mar 18, 2016
I think this is a great idea. I have grandchildren in two different states between the required ages who make and take their school lunches.how would they submit entries?
Sep 28, 2020
According to this map, Michigan grows a little of all categories. Fruits, Veggies, and protein is found on this map of Greatness. When learning where your food is grown, you have better outlook on what foods you can get fresh and what's going to be frozen. This was something I didn't know because I'm from Chicago,IL so I was use to meat markets, slaughter houses, and fish markets. There is more fresh veggies markets here in kalamazoo and that's something i've grown to appreciate.