Mar 25, 2016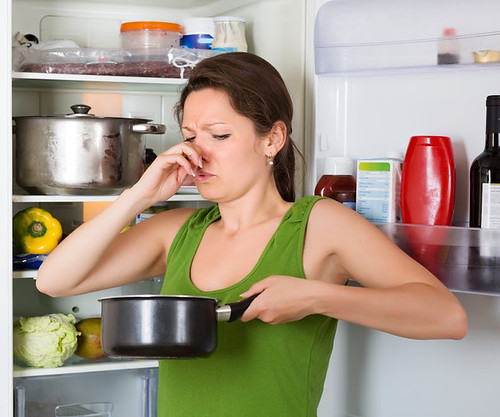 March is National Nutrition Month. Throughout the month, USDA will be highlighting results of our efforts to improve access to safe, healthy food for all Americans and supporting the health of our next generation.
What happens to foods when they spoil and are they dangerous to eat? What causes foods to spoil and how? These are questions we often get on USDA's Meat and Poultry Hotline. Read on to learn the science behind food spoilage.
Spoiler Alert!
Signs of food spoilage may include an appearance different from the food in its fresh form, such as a change in color, a change in texture, an unpleasant odor, or an undesirable taste.
Various factors cause food spoilage, making items unsuitable for consumption. Light, oxygen, heat, humidity, temperature and spoilage bacteria can all affect both safety and quality of perishable foods. When subject to these factors, foods will gradually deteriorate.
Microorganisms occur everywhere in the environment, and there is always a risk of spoilage when foods are exposed to unsuitable conditions. Microbial spoilage results from bacteria, molds, and yeast. While microorganisms may or may not be harmful, the waste products they produce when growing on or in food may be unpleasant to taste.
Pathogenic Spoilage
In addition to causing food to deteriorate and taste unpleasant, some types of spoilage can be caused by pathogenic bacteria, which can have serious health consequences. For example Clostridium perfringens (common cause of spoilage in meat and poultry) and Bacillus cereus (common cause of spoilage of milk and cream) are also pathogenic. When exposed to unsuitable storage conditions, such as the Danger Zone (between 40 and 140° F), these organisms can multiply rapidly and they can release dangerous toxins that will make you sick if you consume the item, even if it's cooked to a safe internal temperature. To keep food out of the Danger Zone, keep cold food cold, at or below 40 °F (4.4 °C) , and hot food hot, at or above 140 °F (60 °C).
Spoilage of food is not just an issue of quality; it is also a matter of food safety. USDA recommends following the FOUR steps to Food Safety (Clean, Separate, Cook, and Chill) to prevent food spoilage and reduce your risk of foodborne illness.
Learn appropriate storage methods with the FoodKeeper app
Learn about proper food and beverages storage with the FoodKeeper. It will help you maximize the freshness and quality of items by showing you the appropriate storage methods for more than 400 items. By doing so you will be able to keep items fresh longer than if they were not stored properly. It was developed by the USDA's Food Safety and Inspection Service, with Cornell University and the Food Marketing Institute. It is also available online and as a mobile application for Android and Apple devices.