A year-long monthly series of climate change science seminars have been developed by USDA's Office of Energy and Environmental Policy and the USDA Agriculture, Forestry, and Climate Science Working Group. These seminars are designed to provide USDA employees and key Cooperative Extension personnel with the scientific foundations of climate change, and an understanding of how climate change influences USDA's mission and daily work. The series features leading scientists, both internal and external to USDA, who provide information and respond to questions on a range of climate change related topics, including the foundational science of climate change, the effects of climate change on U.S. croplands, animal agriculture and forests, and the impact of climate extremes on agriculture and forests. These discussions are designed to be of use to USDA conservation, resource management, commodity, and service staff, and accessible to anyone, regardless of their level of familiarity of the subject matter.
Climate Change 101: The Foundational Science
Dr. Keith Dixon (NOAA) is an award winning science communicator with more than 30 years of experience as a research meteorologist and climate modeler. In the inaugural video of the climate seminar series, Dr. Dixon discusses what is known about our planet's changing climate, how that knowledge is developed, and how certain we are that humans are responsible for the change we are observing.
Climate Effects on U.S. Agriculture and Forests
Climate change effects are already evident in U.S. forests and agroecosystems. We are on the cusp of additional and potentially more severe effects, primarily facilitated by increased frequency and magnitude of extreme weather events (drought, heavy rainfall, heat waves) and associated disturbances (wildfires, insect outbreaks).
Climate Extremes in Agriculture and Forests
Atmospheric CO2 in the atmosphere is now likely higher than at any point in the last two million years. The effects of elevated atmospheric CO2 are interconnected, leading to changes in extremes in both weather and climate. USGS's Dr. Adam Terando discusses the consequences of changes in temperature, precipitation and drought to U.S. agriculture and forests, and approaches to adaptation.
Climate Effects and Adaptation in Croplands
Dr. Lisa Ainsworth, Research Leader of the USDA ARS Global Change and Photosynthesis Research Unit, speaks to USDA about the effects of recent and future climate change on croplands, how those changes impact global crop yields, and strategies for adaptation.
Climate Effects and Adaption in Animal Agriculture
Dr. Mark Boggess, Director of the U.S. Meat Animal Research Center, and Dr. Justin Derner, Research Leader of the Rangeland Resources and Systems Research Unit, discuss how climate change and increased weather variability impact animal production systems. Specific topic areas covered include the effects of heat stress on feedlot cattle, designing sustainable beef systems, climate change influences on rangelands, and options for adapting animal production systems to climate change.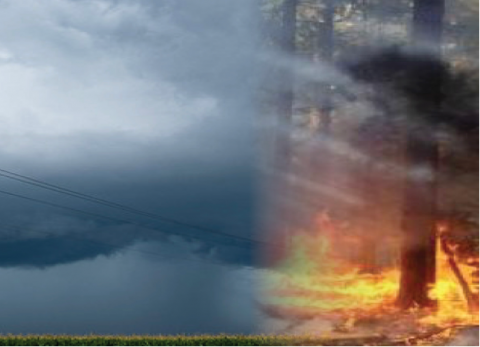 Climate Effects and Adaptation in Forests
Coming soon!